Fair enough… We've made it to the end of 2017 (I'm writing this on December 31st, so if someone managed to release a great album within the next six hours, I'll be damned!), and we've listened to all the music there is and used our extremely objective filters to judge and rank it. (Spoiler alert: No, we didn't!).
In reality, 2017 turned out to be way busier than I anticipated and extremely gratifying. However, listening to music as someone who is constantly working on it becomes a bit of an interesting endeavor. Paths were changed, careers were questioned and hobbies altered. There is a lot more artwork on me and with me, and I moved away from the mixing desk for the most part, as I sat behind computers. Played more live music than I had in the previous seven years and I've already semi-retired from the live scene again. Got a big person job because it actually made me happy and a normal life might not be out of the question after all… Never say never!
Okay! Back to business… Albums… 2017… GAH!
There was definitely an Album of the Year, because there are still a few bands out there that care about quality and artistry, but man oh man, this year had more "I wish they hadn't done that" moments than most others. I didn't listen to a lot of new music this year because a lot of it was just not great, some of it was actually quite forgettable and that makes me sad. SAD!
Anyway, enough with the poorly managed nations, let's move on to titles and stuff. Without any other types of ado, here is my top 10 of albums released in 2017:
10. Rainbow – Kesha
Okay, okay, okay! hear me out! I know this is not what anybody expects from the guy who drives into work blasting Necrophagist, but this album blew me away. It's no secret that I have an incredible respect for Kesha and after reading and understanding all she went through with her abuser (and former producer, I guess…) and her record company, it was impossible for me not to like this.
Rainbow is in essence a great Pop record, it has every element necessary to get 15 year olds dancing and reciting catchy hooks, but damn… it also has FEELING, like, LOTS OF FEELING! This is not a shallow record at all. Kesha had a lot to say and damn gurl! she did! There wasn't any holding back and it shows. Colour me impressed.
9. Clairvoyant – The Contortionist
Back to the regular program. Do you know that feeling when you find something that you like so much that you can't understand why you hadn't heard a thing about it before? That's exactly what I felt when I first listened to this album: Where have you been all my life? The Contortionist were a happy discovery and Clairvoyant is one of the albums that I was attracted to the most this year.
Moody, dark and definitely well crafted, this album is the perfect soundtrack for a calm rainy day. Every nuance, every sound belongs in its place, carefully placed words and instrumental passages that don't get in the way, nothing sounds forced, nothing sounds like it shouldn't be there.
The main reason it is only number 9, is the fact that the album can be a little monochromatic, and after a while, there aren't a lot of surprises, and everyone knows I like surprises!
8. Fractured – Lunatic Soul
The album Riverside should have released instead of -whatever that was last year-
Lunatic Soul is Mariusz Duda's solo project but it sounds exactly like all that was lacking from Riverside's Eye of the Soundscape (Namely, good music, lyrics and atmosphere).
Fractured is full of Mariusz' trademark harmonized vocals and exotic melodies, soft beats and heavy synthesizers, and even though less on the "rock" side of the musical spectrum, this album feels alive, it goes places and it takes you with it.
7. The Further Side – Nova Collective
This is what happens when a bunch of super talented musicians get together in a room and let the creative juices flow.
There's not a lot to be said about the music contained in this collection of sounds, the music speaks by itself, and it says a lot on its own. One of the most solid instrumental albums I've listened to in a long time; complex and technical, but musical and accessible.
6. Wall of Sound – Marty Friedman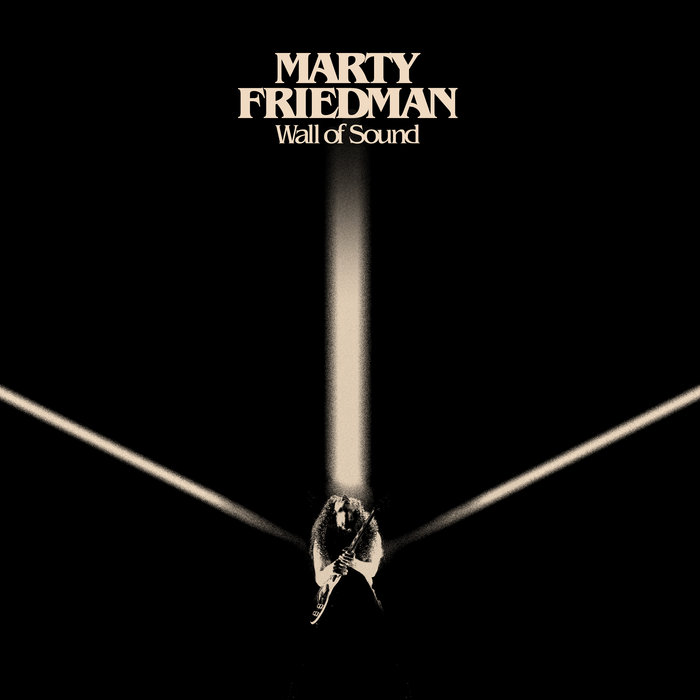 Fun fact, Marty Friedman is my all-time favourite guitar player. No contest.
Wall of Sound is exactly what needs to be expected from this giant musician (albeit him only being 5'6″), fast metal tunes, riff rock, emotive ballads, brass, acoustic, etc. You name it.
Everything on this record sounds as fresh as it can, even if, as usual, the sound tends to be a little polished, it's all for the greater good. Top music from a top guy!
5. Malina – Leprous
I'm not going to claim that I've always loved these guys or anything along those lines, because it's not true. Leprous has always been a talented band who happened to write music I wasn't interested on.
Malina changed that in a big way. Starting with the lead single from the album, From the Flame, that has one of the catchiest lines ever, and then following with the amount of focus that is now present all over their music. This sounds to me like a band who went from "let's call for attention" to "Let's just write good music." Much appreciated.
4. The Optimist – Anathema
After Weather Systems, the expectations for a new Anathema album were at an all time high, and even though The optimist speaks a different language, it doesn't even pretend to partake in the comparison.
This album sounds and feels like Anathema, every tune follows where the last one left off, and so on.
It's interesting that an album that somehow let me down, is high in my top 10 of releases this year, but that's just how good this band is. Not nearly as good as their previous effort, but still better than most others'.
3. Monochrome – Daniel Cavanagh
Speaking of Anathema, Daniel Cavanagh, guitarist and leader of the band, decided to release a solo album at pretty much the same time as Anathema released The Optimist, and what happened in my ears was that he spent a lot more of his time making this sound like the missing element from the collective effort. To me this sounds like what would have made The Optimist the album of the year, even though that title was already decided in January (More on that in a bit).
The organic sounds, the heartfelt vocals, the syncopated but steady rhythms, they were all there waiting in an obscure corner to be listened to.
2. To The Bone – Steven Wilson
What? Steven Wilson released an album and it isn't number 1? Who am I?
As a declared fanboy, I'm just as shocked as most of you! Steven Wilson went in a different direction for the recording of To The Bone, and one I truly enjoyed and made me play this bunch of times. Signing for Caroline International (AKA Universal Music) and getting as much press coverage as a class A celebrity made it all seem even more surreal, watching Steven Wilson perform live in a TV show full of old ladies, and his happy persona in full effect made it all look like the most bizarre spectacle for the avid progressive rock fan, but here we are, heavily influenced by old school electro-pop, blatant references to things Dead Can Dance would have put in one of their albums and so on; the addition of guest musicians and the overall major soundscape, (Ninet Tayeb can do no wrong and everyone knows it) have made this one of the albums that I listened to, and enjoyed, the most this year…
However…
1. In The Passing Light of Day – Pain of Salvation
Wow… Just wow!
Heavy, dense, dark, deep, musical, intricate.
This album came a mere week or so into January in 2017, and on that very instant I already knew it was going to be the album of the year, by far… No contest.
It opens with a single guitar riff, fat tone and total intent, and out of nowhere that riff turns into a monster that engulfs you into its own flame. There is no stepping off, this album wants you along for the ride and it doesn't slow down, and once it actually does, you're hooked and need to stay on it. It never got old, I never got tired of any of the tunes, didn't feel like skipping to a better part, because every part is the best part. From Daniel's vocals after finding a second wind, to Ragnar's melodic lines and high pitch backgrounds, the eerie keyboards and the low end being held to perfection, this album is a masterpiece.
So… There.